FREE Shipping over $45.00 to Continental U.S.
Lavender Sea Salt Scrub, Body Scrub, Dead Sea Salt Scrub, with Coconut & Sweet Almond Oil. Best Body Scrub, Exfoliating Body Scrub, Bath Salts.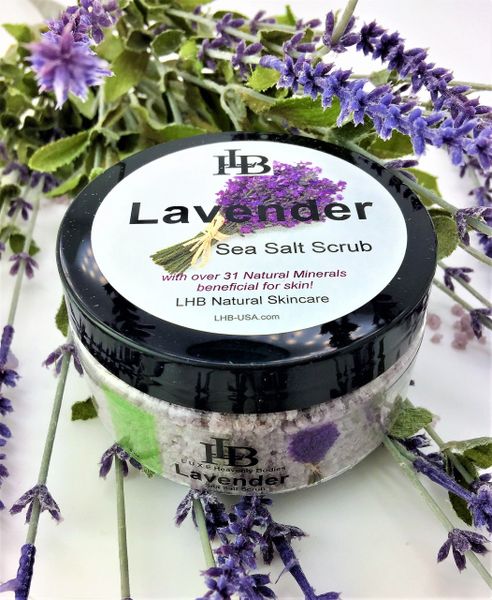 Description
Lavender Sea Salt Scrub  -   with Coconut & Sweet Almond Oil    8.5oz
Great Texture, & Lavender smell

I like this because it's not greasy. The Lavender is a great calming scent, and the texture of this scrub is very nice. Moisturizes well, and exfoliates making my skin so soft. No greasy tub either.
Savannah S.

* With Sea Salt from the Dead Sea in Israel
* Naturally has over 31 Minerals to cleanse, mineralize, & heal skin

* With Essential Lavender Oil
* With Coconut & Sweet Almond Oil & Kaolin
* Never Greasy, Rinses Nicely
Happiness & 100% satisfaction guarantee on all LHB products.
**As seen at New York Fashion Week**
This scrub also offers a silky consistency that slides across your wet skin, and does not leave a greasy feeling, but one of silky smooth moisturized skin!

Further Ingredient Information:

Relax and Escape with our Lavender Sea Salt Scrub.   This amazing scrub contains Sea Salt from the Dead Sea in Israel.  Thousands of years in the making, this  Salt contains mineral riches, that are healing and beneficial for the skin and body.  Magnesium, Potassium and Bromides do a variety of different jobs from combating stress, reducing fluid retention, combating skin aging, and calming the nervous system.  Increased circulation and balancing skin moisture is another added benefit, as well as easing muscle stiffness, and relaxing the muscles, while sodium helps lymphatic fluid balance, which in turn is important for immune system function.

Sweet Almond Oil, and Coconut Oil add moisturizing benefits to Sea Salt scrub.  Sweet Almond Oil is rich in Vitamin E, monounsaturated fatty acids, proteins, potassium and zinc, besides a number of other minerals and vitamins, which explains why it is so good for our heart, skin and hair.  Coconut oil is very good at hydrating skin. It sinks in deep, conditions, moisturizes, and softens skin.
Sweet Almond Oil  adds a moisturizing touch to leave skin feeling hydrated and elastic, without clogging  pores.  The monounsaturated fats in the oil keep cell membranes healthy, reducing the appearance of aging.  Due to the oil's gentle, nourishing nature, anyone can benefit from using Sweet Almond Oil, even those with sensitive skin.  Sweet Almond Oil is also a rich source of magnesium,  making your skin soft and glowing.

Coconut Oil  helps to keep skin smooth and hydrated.  With three fatty acids contained in Coconut oil, specifically capric, caprylic and lauric acids, we now add strong disinfectant and antimicrobial properties.  As a result, when applied to the skin, coconut oil protects from microbial infections that can get into open wounds or even enter the body through pores.  Coconut oil also contains a generous amount of Vitamin E, and is rich in many proteins, keeping skin healthy and contributing to cellular health, tissue repair, and regeneration.

Ingredients:  Dead Sea Salt, Aloe Vera Leaf Juice, Coconut Oil, Sweet Almond Oil, Kaolin Clay, Beeswax, Essential Lavender Oil, Vegetable Emulsifying Wax,  Xanthum Gum, (<1% Eco-Cert & Globally approved non-toxic preservative system Geogard - Dehydroacetic Acid, Benzyl  Alcohol, Water.)

Paraben and Formaldehyde Free!
***We use Eco-Cert Globally Approved non-toxic preservative systems in our products, because....

***Any product containing water, aloe vera leaf juice, or other hydrosol, or liquid containing water must be preserved using a Broad Spectrum Preservative System.  Unless a Broad Spectrum Preservative System is used, Bacteria, Mold & Fungus can multiply & grow long before they are visible to the naked eye.  All of our products are Batch Tested to ensure product safety.
***Natural & Organic ingredients act as food for microbial growth, so it is extremely important to use a safe & reliable Broad Spectrum Preservative System.
Follow us on all Social Media Platforms @lhbskin