FREE Shipping over $45.00 to Continental U.S.
Mega Moist 7 Facial Cream, with Botanicals of Jasmine, Macadamia Nut, Squalene & Golden Jojoba.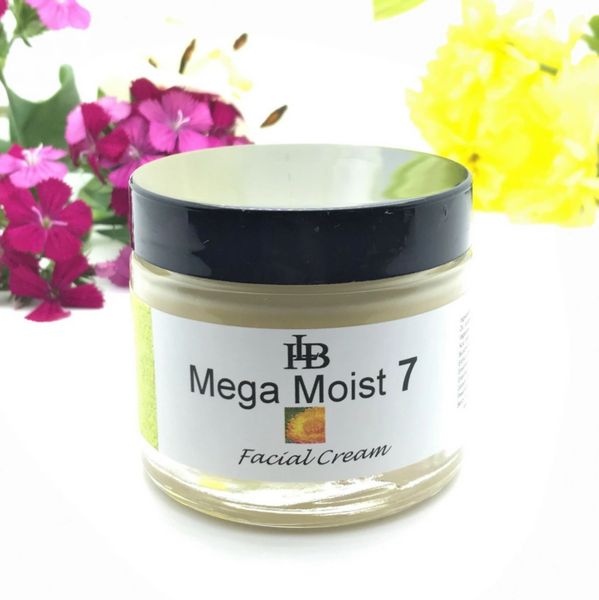 Description
Mega Moist 7 Facial Cream      now 60 mls!
with Botanicals of Jasmine, Macadamia Nut Oil, Squalene, & Golden Jojoba
The Best EVER!
Can't say enough about this moisturizer... just wish it hadn't taken me so many years to find it!
*Naturally loaded with Anti-Oxidants, Vitamins, Minerals & Phytosterols

*Great for Dry, Sensitive and Problem Skin
*Healing for dry, inflamed or acne prone skin
*Natural Fragrance of Jasmine and the Botanical Ingredients
*This is a favorite Facial Cream of Dressage Rider & Pan Am Gold Medalist Sabine Schut-Kery***Pictured Above

*Apply morning & night to areas of face, neck & decollete.  
CUSTOMER REVIEW:   "Mega Moist is right!"
"I love, love, LOVE this cream! Every night I feel my face drink up all the goodness in this cream and in the morning I can still feel the creaminess in my skin. Never oily, just pure heavenly moisture! For 40 years, I've bought my lotions at the department store from all the major players and nothing they have even comes close to Mega Moist 7." - Sara L.
***100% Happiness & Satisfaction Guarantee on all LHB Natural Skincare products.
*****As seen at New York Fashion Week. 
MegaMoist 7 Facial Cream, is packed with nutrients & 7 powerful Botanical Extracts  to soothe and soften the skin.  Its lovely golden color and aroma impart from Jasmine Floral Wax, and Golden Jojoba Oil. 

Further Ingredient Information:
  Jasmine Floral Wax has a sweet and flowery aroma.  It is known as an anti-inflammatory, and antiseptic.  It encourages cell growth and increases skin elasticity.  This rich creamy wax is an exotic addition to creams such as ours, and comes from the leaves of the botanical Jasmine Flower.  The wax holds many of the benefits of the botanical including its moisturizing phospholipids.
 Macadamia Nut Oil is fabulous for dry and mature skin, because it is rich in Fatty Acids.  Essential Fatty Acids are the building blocks of healthy cell membranes.  Macadamia Nut Oil contains one the highest sources of Palmitoleic fatty acids. (Between 16-23%).  It also contains both Oleic and Linoleic Acids, additional fatty acids known for their fantastic regeneration and moisturizing properties as well as for preventing TEWL, or Trans Epidermal Water Loss, from our skins delicate tissues.  Macadamia Nut Oil is also high in phytosterols again contributing to the building blocks of our cell membranes.  Phytosterols are also soothing and healing, which makes it a perfect match to help repair our skin's barrier function. 
 Squalene is derived from Olives, and is a natural humectant that increases water retention in our skin.  Squalene works great as a moisturizer because it closely resembles our own sebum, and easily penetrates the skin.  Squalene provides essential plant derived nutrients that encourage cell turnover and increase collagen production and moisture retention, leaving our skin supple, moist, and plump, radiating vitality and health.  Squalene is also known to help with many skin situations such as eczema, psoriasis, dry or rough skin, and rashes.

Golden Jojoba Oil is a life saver for dry, damaged, rosacea or acne prone skin. Jojoba's anti-microbial properties help fight acne and the bacterial growth that causes pimples, blackheads and breakouts. Golden Jojoba contains almost all of the vitamins and minerals essential for healthy skin.  Vitamin E, B-Complex, Copper, Zinc, Selenium, Iodine, and Chromium.  It's even gentle enough for sensitive skin.
 Lecithin is derived from soybeans and helps to hydrate, replenish and repair our skin with its essential fatty acid content.  Lecithin is able to penetrate the epidermis and carry with it important components such as choline and inositol, which are vital to cell membranes growth and function. 

Cornflower Hydrosol:   Hydrosols are by products of essential oils, and Cornflower Hydrosol is soothing for dry, irritated or mature skin.  This is a great gentle toner good for delicate skin.
THE MAGIC 7 BOTANICAL EXTRACTS
Mega Moist 7 contains Seven Natural Botanicals including Sea Buckthorn Berry Extract, Rose Hips Seed Extract, Calendula Extract, Chamomile Essential Oil, Helichrysum Essential Oil, Spikenard Essential Oil and Patchouli Essential Oil. 
Known Benefits of these Botanicals are listed below:
1. Sea Buckthorn Berry CO2 Extract:  Its properties include a high amount of linoleic acids and Vitamins A & E, both of which are restorative and soothing to the skin.  Sea Buckthorn Berry is rich in beta-carotene, which gives it a deep orange color.  It is effective both as an anti wrinkle and skin softening ingredient. 
2. Rose Hips Seed CO2 Extract:  Rose hips are from the fruits of roses, the little bulb below the bloom.  Herein lay the seeds that are used to create this extract.  This oil promotes tissue regeneration, and helps prevent and repair skin scarring from conditions like acne.  Rose Hips Seed Oil also reduces wrinkles, gives a lovely elasticity and fresh feeling to your skin.  It is high in amounts of linolenic acid and beta-carotene, both of which contribute to restoring and soothing sensitive skin tissues.
3. Calendula CO2 Extract:  Calendula has been known for centuries to treat skin conditions for inflammation.  It is said to quicken the skin's healing of minor burns, cuts, scrapes, insect bites and other abrasions.  The oil is removed from the petals of the Calendula flower, resulting in a deep colored thick extract.
4. Chamomile Essential Oil:  The Chamomile plant belongs to the daisy family, and has significant anti-inflammatory powers.  It can help to soften skin, and may reduce any skin rashes.
5. Helichrysum Essential Oil:  Helichrysum Oil reduces inflammation and itching and has demonstrated an ability to heal even decades old scar tissue.  It is known as a Cicatrisant, a property which helps wounds and cuts to heal quickly. It is effective on clearing up spots left on your skin by pox, boils, and other skin irregularities.   It is also known as an anti-septic and emollient, and fungicidal.  This precious addition is known to be very costly and scarce! 
6. Spikenard Essential Oil:  Helps to restore balance and luster to dry mature skin. 
7. Patchouli Essential Oil:  Love it, or hate it, Patchouli is one of the best essential oils for rough and cracked skin.  Known to soothe inflammation, it also protects small skin wounds from developing infections.  An astringent, and cicatrisant, Patchouli helps speed the healing process of cuts and wounds, and also hastens the fading of scar tissue, and marks left by acne, pox, or other skin issues.  And lastly Patchouli promotes growth by stimulating the generation of new cells.
Complete Ingredient List:   Cornflower Hydrosol, Macadamia Nut Oil, Squalene, Jojoba Oil, Jasmine Floral Wax, Vegetable Emulsifying Wax, Lecithin, Palm Stearic Acid (plant based),  Borax, Xanthum Gum, Sea Buckthorn Berry CO2 Extract, Rose Hips Seed CO2 Extract, Calendula CO2 Extract, Chamomile Essential Oil, Helichrysum Essential Oil, Spikenard Essential Oil, Patchouli Essential Oil, (<1% Eco-Cert & Globally Approved  Broad Spectrum Preservative System Geogard - Dehydroacetic Acid, Benzyl Alcohol, Water.)
Paraben & Formaldehyde Free!
***We use Eco-Cert Globally Approved non-toxic preservative systems in our products, because....

   *Any product containing water, aloe vera leaf juice, or other hydrosol, or liquid containing water must be preserved using a Broad Spectrum Preservative System.  Unless a Broad Spectrum Preservative System is used, Bacteria, Mold & Fungus can multiply & grow long before they are visible to the naked eye.  All of our products are Batch Tested to ensure product safety.
***Natural & Organic ingredients act as food for microbial growth, so it is extremely important to use a safe & reliable Broad Spectrum Preservative System.  
With all this goodness for your skin packed into  Mega Moist 7, you will be sure to love it!