FREE Shipping over $45.00 to Continental U.S.
Micro DermaBrasion Facial Paste, gentle Exfoliating Cleanser with Jojoba Oil beads, Rose & Honey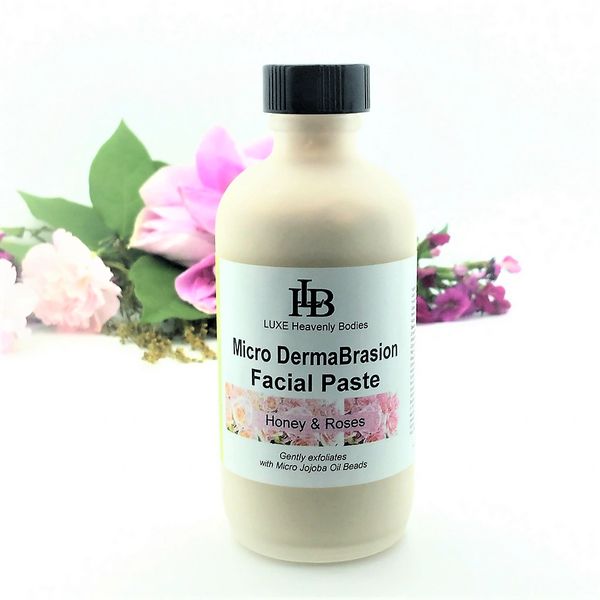 Description
Micro DermaBrasion Facial Paste                     4 oz
"
The best exfoliant I have ever used. It leaves my skin looking so refreshed and very supple and soft!"
* Gently Exfoliates with micro Eco-Friendly Jojoba & Castor Oil Beads
* Colloidal Oats, soothe and protect skin
* Gentle enough for daily use if desired
* With Natural Honey, Rose & Grapefruit Essential Oils
* With Olive, Coconut & Safflower Oils,  Rose & Kaolin Clays
CUSTOMER REVIEW:   "Gentle Daily Paste"
"this gentle 'paste' is like a mild scrub you can use every day - and in fact I do. It's amazing how it changes the way your face feels!" - Sara L.
LHB's  MicroDermabrasion Facial Paste gently exfoliates and lifts away dead skin cells.  It does not leave your skin red or irritated, and can give you similar results you would pay much more for at a high end spa. 

To Exfoliate & Cleanse:  Place a small amount onto your fingertips and apply to dry or slightly damp skin. Gently massage in a circular motion to exfoliate and cleanse your skin.  Avoid the eye area.  Rinse with warm water and pat dry, or leave on to mask for a deeper treatment for an additional 10 - 15 minutes.  Rinse and pat dry.  Enjoy your soft clean skin!
**This is a very gentle cleanser that can be used on all skin types, even very sensitive skin.  It is not harsh, nor does it strip your skin which is what causes irritation in most cleansers.

 Use daily for 7-10 days, then once a week thereafter to get your skin on track!   This gentle but effective paste combines super fine and effective micro particle cleansers, of Castor & Jojoba Oil Beads, with Kaolin & Rose clays.  
 We've added soothing and healing Olive Oil, Coconut & Safflower Oils, Glycerin & Beeswax, all beneficial to your skin's rejuvenation and overall health.  Aloe Vera, Colloidal Oats, Honey, Rose, and Essential Grapefruit Oils, add antiseptic and bacteria fighting qualities to keep your skin clean and clear.
Gentle, yet effective, and all with natural and organic ingredients.
Complete Ingredients:  Ingredients: Aloe Vera Leaf Juice, Olive Oil, Kaolin Clay, Hydrogenated Jojoba Oil & Castor Oil Beads,(eco- friendly), Colloidal Oats, Alpha Olein Sulfate,  Beeswax, Vegetable Emulsifying Wax, Citrus Powder, Coconut Oil, Palm Oil, Safflower Oil, Rose Clay, Honey,Vegetable Glycerin, Sodium Hydroxide, Radish Root, (Globally approved Eco-Cert preservative system Geogard - Dehydroacetic Acid, Benzyl Alcohol, Water.)Sorbitol, Sorbitan Oleate, Essential Grapefruit Oil, Xanthum Gum, Sodium Bicarbonate, Limonene, Rose Essential Oil.
***Our products contain Eco-Cert approved broad spectrum preservative systems, because...
***Any product containing water, aloe vera leaf juice, or other hydrosol, or liquid containing water must be preserved using a Broad Spectrum Preservative System.  Unless a Broad Spectrum Preservative System is used, Bacteria, Mold & Fungus can multiply & grow long before they are visible to the naked eye.  All of our products are Batch Tested to ensure product safety.

***Natural & Organic ingredients act as food for microbial growth, so it is extremely important to use a safe & reliable Broad Spectrum Preservative System.