FREE Shipping over $45.00 to Continental U.S.
Sample Size - Passion Fruit & Pineapple Resurfacing Facial Mask & Light Peel. Natural Fruit Enzymes effectively remove dead skin cells.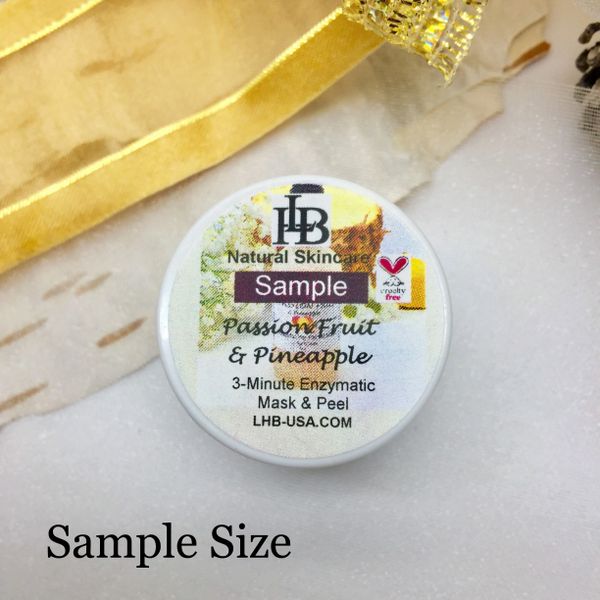 Description
This is a Sample Size
(full size bottle also shown above)
Passion Fruit & Pineapple Resurfacing Facial Mask & Light Peel.

Makes your skin feel so smooth!
This peel feels light on the skin, yet really refreshes the surface of the skin. I use it twice a week and CAN'T live without it. My skin looks and feels more radiant.
Apply a thin layer of the mask to the face and neck area, and wash off with a warm towel after 3-5 minutes. A slight tingling feeling is normal. This is the fruit enzymes doing their magic!
This will result in a smooth complexion when used regularly. (recommended use once a week)
Benefits of this 3 Minute Facial Resurfacing Mask:
*Sheds off the outmost layer of dead horny cells
*Induces renewal of a new layer of skin cells
*Increases the moisture level of the skin which improves the flexibility of the upper skin layer.
CUSTOMER REVIEW: "Soft, bright new skin"
"I am new to this product, but have been very happy with the result. It is exactly as is states, "a light peel". Your face does not get all red or irritated. I am going to build this into my weekly routine and will be purchasing again." - A.R.
***100% Happiness & Satisfaction Guarantee on all LHB products.
*****As seen at New York Fashion Week.
Further Ingredient Information:
This is an Alpha Hydroxy Fruit Acid Peel. The Natural fruit acids shed off the outmost layer of dead horny cells, and induce a new fresh layer. Moisture & Elasticity are increased as a result.
Passion Fruit is rich in Vitamins A & C. Vitamin C is essential for the synthesis of Collagen. Degradation of collagen causes wrinkles, so including Vitamin C rich ingredients in your food and skin care helps delay the aging of the skin.
Pineapple is full of Vitamin C, potassium, and bromelain which is great for acne. It is full of antioxidants, and enzymes that soften the skin. Vitamin C helps the body to synthesize collagen, and its amino acids aid in cell and tissue repair.
Grape Seed Extract is considered to be one of the most effective natural skin ingredients available. It acts as an AHA ( or alpha hydroxy acid), which works to nourish and strengthen skin cells. Most notably the collagen and elastin fibers, keeping skin firm and youthful. The moisture barrier of the skin is also increased, and is a natural source of resveratrol, which acts as an anti-bacterial, anti-inflammatory and anti-fungal agent.
Lemon extract is a natural exfoliant as the citric acid acts as a gentle "skin peel", helping to remove the top layer of dead skin cells. This results in a smoother complexion, and also helps to brighten, moisturize and tone oily skin, and fight wrinkles.
Complete Ingredient List: Distilled water, denatured alcohol, passiflora quadrangularis fruit extract, citrus medica limonum fruit extract, ananas sativus fruit extract, vitis vinifera fruit extract, vegetable glycerine, triethanolamine (ph adjuster), xanthum gum, triglycerides of coconut & palm (emollient), sodium acrylate, acryloyldimethyl taurate copolymer, isohexadecane, polysorbate 80.
Follow us on all Social Media @lhbskin