FREE Shipping over $45.00 to Continental U.S.
Sample Size - Raspberry & Honey Exfoliating & Cleansing Mask, with Vitamin C, and micro Jojoba Oil particles. Gentle and Exfoliating Mask.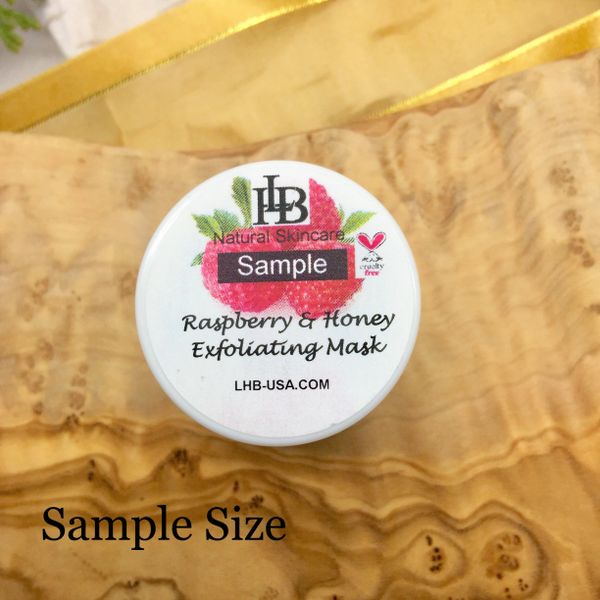 Description
This is a Sample Size
Raspberry & Honey Exfoliating and Cleansing Mask

(full size product is also shown above)

This is a rich and creamy Exfoliating Cleanser & Mask in One. Loaded with Natural & Organic ingredients that gently do their job. Gentle enough for all skin types, it leaves you with a feeling of dewy soft skin.
*Antioxidant, Exfoliant, and Moisturizing Mask

*with Natural Raspberry & Honey, Vitamin C & E
*with Natural fruit enzymes that work deeper especially with regular use.
*with mico Jojoba oil bead particles that do a mild and quick exfoliation. (also eco-friendly).
*Natural and Organic Skincare product
"Loving this mask so much!"
"I used the Raspberry Honey Mask just this morning. I really love this product. It's a wonderful multitasker for the skin, with excellent exfoliating and soothing, hydrating properties. I worked it on my skin gently and could really feel the exfoliation action and then left it on for about 10 minutes to get the full benefit of the mask. Great activ
e ingredients! The lovely combo of the honey and berries, has such a "yummy" natural smell, that is so uplifting to use. I will definitely be using this mask a couple of times per week and reordering soon."
***Janette Haynes, Lic. Esthetician, Organic Skin Care by Janette, Hillsboro, OR***
Directions: Apply with fingertips onto dry or slightly damp skin. Massage gently with fingertips in a circular motion. You can rinse immediately, or for let sit on skin for 5-10 minutes before rinsing with warm water, for a deeper treatment. Enjoy your dewy soft skin!
**100% Happiness & Satisfaction guarantee on any LHB product you purchase!
"Leaves my skin so soft & smooth...
I LOVE this product. My daughter recommended it, & I'm so glad she did!
It's rich & creamy, gentle and exfoliates well without being harsh. Feels good on your fingertips & face, no wonder though, just look at the ingredients!" ***Lola A.***
Complete Ingredient List: *Organic Aloe Vera Leaf Juice, Olive Oil, *Coconut Oil,Kaolin Clay, Beeswax, Vegetable Emulsifying Wax, Jojoba Oil Beads,Honey, Citrus Powder, Coconut Oil, Palm OIl, Safflower Oil, Vegetable Glycerin, Bacillus Ferment, Sodium Hydroxide, Radish Root, Xanthum Gum,Sorbitol,Stearic Acid, Ascorbyl Palmitate - Vitamin C Ester, Rose Clay, Montmorillonite Green Clay, *Raspberry Fruit Extract, *Blueberry Fruit Extract, *Cranberry Fruit Extract, *White Willow Bark, Sorbitan Oleate, Essential Grapefruit Oil, Tocopherol- Vitamin E, Rosehip Seed Oil, *Neem Oil, Rosemary Leaf Extract, Tetrasodium EDTA, Limonene, Mica, (<1% Eco-Cert & Globally approved non-toxic preservative system Geogard - Dehydroacetic Acid, Benzyl Alcohol, Water.)