FREE Shipping over $45.00 to Continental U.S.
Roses & Dew Drops Silky Hydrating Serum, Travel Size, Facial Serum & Light Moisturizer, Natural Moisturizer, with Lavender,Geranium & Ylang Ylang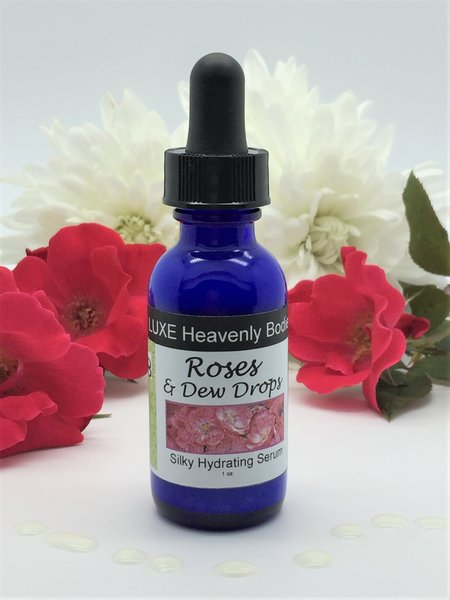 Description
Roses & Dew Drops Silky Hydrating Serum 1 oz. Travel Size
(also available in 2 oz. bottle in frosted glass & smaller sample size)
Refreshing!!!
Love this product for my sensitive skin, very refreshing, not oily, doesn't sting and smells awesome!!!
*Apply a few drops to your fingertips and gently apply to your face and neck, morning & night after cleansing.

*Goes on easily, absorbs quickly
*Has staying power to leave your skin feeling smooth & hydrated long after you have applied it.
*Loaded with natural oils, and effective botanicals so good for your skin.
*Filled with natural vitamins, minerals and antioxidants to keep skin glowing and healthy.
CUSTOMER REVIEW: "Love, love, love this product"
"I received the Roses & Dew Drops as a free gift with my purchase of Collagen Cream. I immediately put it on and my skin feels awesome and the smell is wonderful. I am ordering another bottle. Thank you Julie for making so many awesome products." - Debbie C.
***100% Happiness & satisfaction guarantee on all LHB products!
*****As Seen at New York Fashion Week.
Further ingredient information:
Roses & Dew Drops combines a base of highly effective ingredients including Rose Hydrosol, Sweet Almond Oil, Golden Jojoba Oil, Rose Essential Oil, Geranium, Lavender & Ylang Ylang. You really won't believe how wonderful this combination is until you try it for yourself!
Further Ingredient Information:
Rose Hydrosol helps to maintain your skin's pH balance. It soothes sensitive skin, hydrates, revitalizes and moisturizes the skin and helps to make it smooth. Rose water has antibacterial properties and helps to tone the skin. It also helps to fight acne, dermatitis and eczema, and helps to heal cuts and wounds.
Jojoba Oil: Jojoba Oil is a life saver for dry, damaged, rosacea or acne prone skin. Jojoba's anti-microbial properties help fight acne and the bacterial growth that causes pimples, blackheads and breakouts. Jojoba Oil contains almost all of the vitamins and minerals essential for healthy skin. Vitamin E, B-Complex, Copper, Zinc, Selenium, Iodine, and Chromium. It's even gentle enough for sensitive skin.

Sweet Almond Oil adds a moisturizing touch to leave skin feeling hydrated and elastic, without clogging pores. The monounsaturated fats in the oil keep cell membranes healthy, reducing the appearance of aging. Due to the oil's gentle, nourishing nature, anyone can benefit from using Sweet Almond Oil, even those with sensitive skin. Sweet Almond Oil is also a rich source of magnesium, making your skin soft and glowing.

Rose Essential Oil contains a complex array of vitamins, minerals and antioxidants. It has excellent emollient properties for moisturizing dry skin, as well as antiseptic, astringent and anti inflammatory properties. Rose Essential Oil can also help to refine skin texture. It takes tens of thousands of rose blossoms picked at dawn as they are unfolding to yield 1 oz. of rose essential oil.
Lavender Essential Oil is a redness reducer, and it contains powerful antioxidants to help fight against the harmful effects of pollutants on the skin. It inhibits the growth of skin bacteria, also helping to keep breakouts at bay.
Ylang Ylang Essential Oil comes from the flowers of the large tropical Ylang Ylang tree. It is one of the key ingredients in Chanel No.5. Ylang Ylang helps to maintain skin moisture, and because of its antimicrobial properties it helps to clear and heal acne, and keep your skin clear and glowing. This essential oil helps to regulate the production of sebum in your skin.
Complete Ingredient List: Rose Hydrosol, Sweet Almond Oil, Golden Jojoba Oil, Rose Essential Oil, Geranium Essential Oil, Sodium acrylate, acryloyldimethyl taurate copolymer, isohexadecane, polysorbate 80, dimethicone cross polymer, Lavender Essential Oil, Ylang Ylang Essential Oil. (<1% Eco-Cert & Globally approved non-toxic preservative system Geogard - Dehydroacetic Acid, Benzyl Alcohol, Water.)

Paraben & Formaldehyde Free!

***We use Eco-Cert Globally Approved non-toxic preservative systems in our products, because....

*Any product containing water, aloe vera leaf juice, or other hydrosol, or liquid containing water must be preserved using a Broad Spectrum Preservative System. Unless a Broad Spectrum Preservative System is used, Bacteria, Mold & Fungus can multiply & grow long before they are visible to the naked eye. All of our products are Batch Tested to ensure product safety.
Follow us on all Social Media Platforms @lhbskin